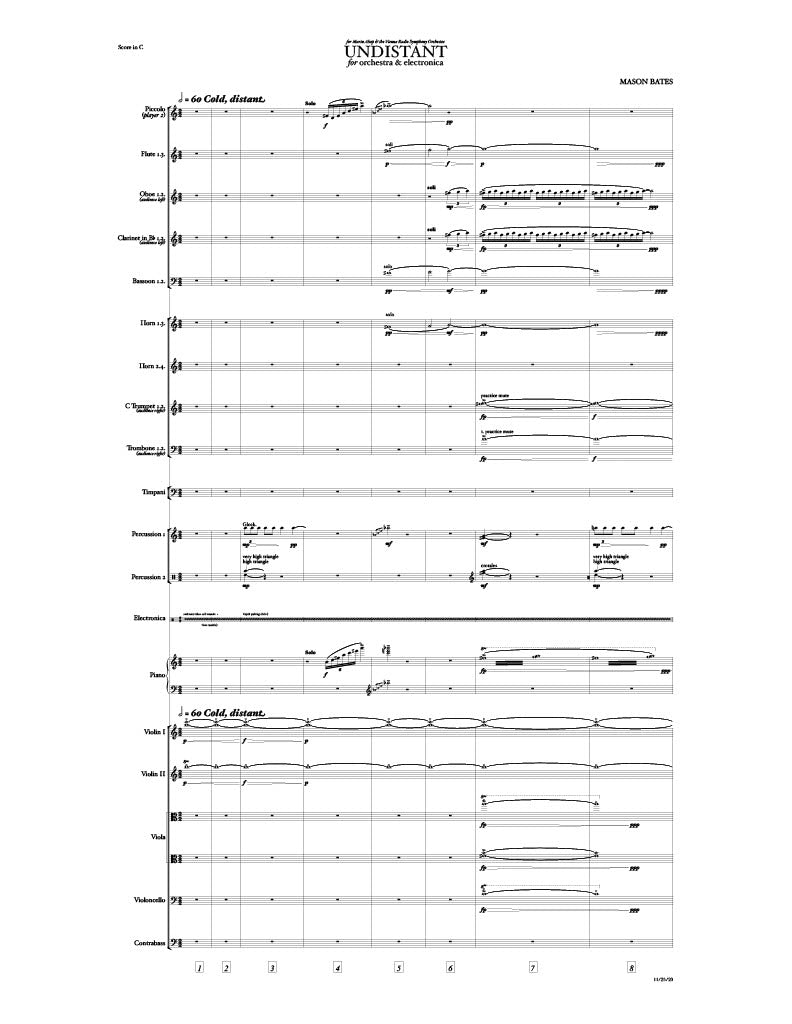 Undistant
$ 60.00
for Small Orchestra - Proceed to purchase if you would like to buy a study score.  
Conductor's Score and Performance Parts for RENTAL ONLY. Please send an email to info@aphramusic.com to request a rental application form.
Approximate Duration: 8'
Piccolo
2 Flutes
2 Oboes
2 Clarinets in B-flat
2 Bassoons
4 French Horns
2 Trumpets in C
2 Trombones
Timpani + 2 Percussion
Piano (Doubling Celesta)
Laptop
Strings
PROGRAM NOTES
Over crackling digital white noise drift textures from three musical ensembles, strewn across a dark space. Cold string harmonics and percussion, muted brass chords, and plaintive woodwinds: these isolated elements float in a primeval emptiness. Barely recognizable fragments of Beethoven's Ode to Joy drift through the soundworld, which has a muffled perspective akin to deafness.
But like microbes in a primordial soup, these elements begin swirling together. The digital crackles – sound samples from today's online communication platforms – coalesce into a quiet rhythm, while the ensembles' ambient clouds merge. Strings descend from the stratosphere into arpeggiations, brass and woodwind swells quicken their overlaps, and a soulful melody emerges that connects all elements. This slow-motion coming together, composed under challenging times for music and fellowship, is envisioned as an affirmation of human connection.