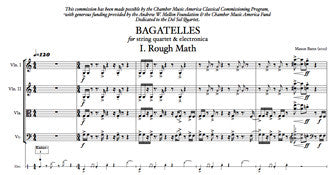 Bagatelles
$ 110.00
for string quartet and electronica
Buy on iTunes: https://itunes.apple.com/us/album/del-sol-zofo-split-ep/id905966867
PROGRAM NOTES
The short, ephemeral nature of a musical bagatelle appealed to me when imaging a collection of miniatures for the wonderful Del Sol string quartet. When paired with cutup electronic samples of the quartet itself, the bagatelle becomes an opportunity for brief, intense touchdowns on rhythmically diverse terrains.
Lurching, lopsided figuration imbues "Rough Math," which is punctuated by samples of the musicians slapping their instruments. "Scrapyard Exotica" begins in a skittish, plectrum-based soundworld but evolves to a more sustained and lyrical space. The mellow charm of "Mating Dance" pairs the fist violin and viola in a swing-based melody, with the second violin and cello coupling up in the accompaniment. The title of the final movement, "Viscera," refers to fast-pulsing internal organs, as if the quartet were a many-legged creature on the run. Many thanks to the musicians, who sat patiently in the studio while I asked them to make all manner of strange sounds, and to Chamber Music America for making the piece happen.
PERFORMANCE NOTES
• The work requires two stereo speakers, placed on the left and right sides of the stage, a few onstage monitors, and a laptop. In addition, the quartet should be amplified and mixed through the same speakers.
• The person who triggers the sounds on the laptop sits next to the mixing board in the house, using software provided with the purchase of the score and parts. The player simply follows the instructions in the electronic part in the score.
• No computer expertise is required from the 'electronic performer,' since the part only involves hitting keys on the computer keyboard corresponding to rehearsal numbers in the score.
REVIEW
"Bates' collection of four short movements are based on some serious rhythmic ideas, but he cloaks them beneath a deceptive layer of insouciant charm. In each movement but the third - a jazzy, sentimental stroll for the string players alone - the procedure is similar. First, Bates has the string players jabbing out brusque, irregular counterpoint whose rhythms are hard to parse. Then the electronica begins to take over and smoothes the music into a regular groove, and the string music stands revealed as fairly straightforward syncopations. The effect is both perplexing and exhilarating, like that of an optical illusion, as the listener retroactively reinterprets what has come before - were the rhythms really that obscure, or was I just hearing it wrong? This is heady, witty and utterly charming stuff. "
— San Francisco Chronicle