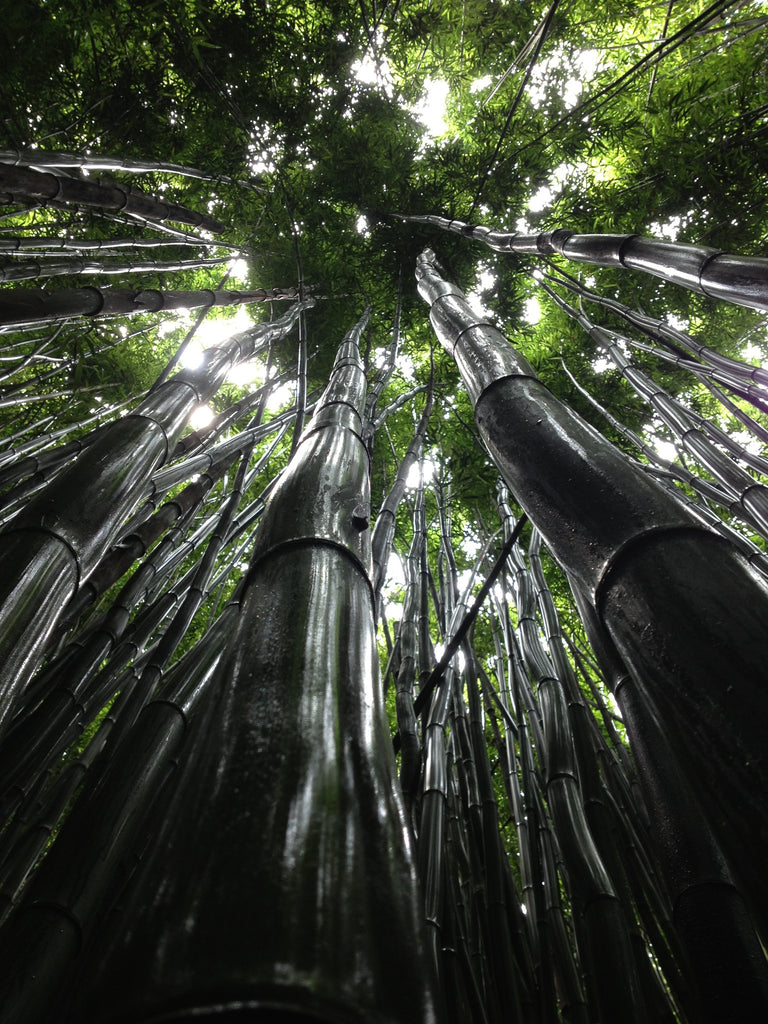 Difficult Bamboo
$ 135.00
for Flute, Clarinet, Percussion (1), Violin, Violoncello and Piano. Score and set of parts; pianist plays from the score.
Approximate duration: 20'
Buy on iTunes: https://itunes.apple.com/ca/album/mason-bates-stereo-is-king/id836261778
Buy on Amazon: http://www.amazon.com/Mason-Bates-Stereo-Is-King/dp/B00IWDJW2E
PROGRAM NOTES
Music with a pronounced stylistic evolution fascinates me, and the search for imaginative conceits that can accommodate this dynamic stylistic approach has led to some unusual forms. Difficult Bamboo's transformation from eerie minimalism to frenetic maximalism is based on a the premise of an aggressive species of running bamboo invading a bucolic landscape.
The pentatonic-tinged harmonies that open the piece, articulated by fluttertonging and tremolo sonorities, conjure a West Coast pastoral. But this lyrical music is quickly visited by an insidiously persistent 'bamboo replicating' music of a pulsing, bending unison. Flickering motives and out-of-tune notes quickly infect each instrument, and the harmony quickly morphs into highly chromatic territory. Even the percussionist's shaker rhythm jumps to the others' music stands. At several moments, the lyrical pastoral music returns, but the 'bamboo replicating' music (like the plant itself) is impossible to kill.
Many thanks to Cliff Colnot and the indispensible players of the Chicago Symphony.
INSTRUMENTATION

flute / alto flute (optional: piccolo)
Bb clarinet
violin
cello (optional: guitar pick)
percussion
2 Tibetan prayer bells
kalimba
5 octobans
piano (with minor preparation – see next page)
NOTE: Each musician plays egg shaker (percussionist should provide)
REVIEW
" In "Difficult Bamboo," the despoiler is mother nature herself – an invasive type of bamboo that multiplies wildly and ruins wildlife habitats. Bates turns the idea into a 20-minute sextet that, in the composer's words, "begins as a minimalist piece and then goes maximal, in a kind of psychotic way." Although "Difficult Bamboo" eschews the electronica that is so often integral to his palette, the jumpy, twitchy rhythmic activity he draws from his ensemble of strings, winds, piano and percussion suggest techno translated into acoustical terms.
The musical progression is typical Bates. Quiet, pastoral scene-painting gives way to a manic freakout of dislocated rhythms, slashing chords and de-tuned instrumental interplay, as the tendrils of bamboo encroach ever greater on a sylvan landscape. At times the frenetic activity lets up just long enough for a slow blues or a sweet bit of diatonic harmony to emerge…. "Difficult Bamboo" is a winner, one of Bates' most appealing, shrewdly plotted pieces. The crowd ate it up. "
— John Van Rhein, Chicago Tribune