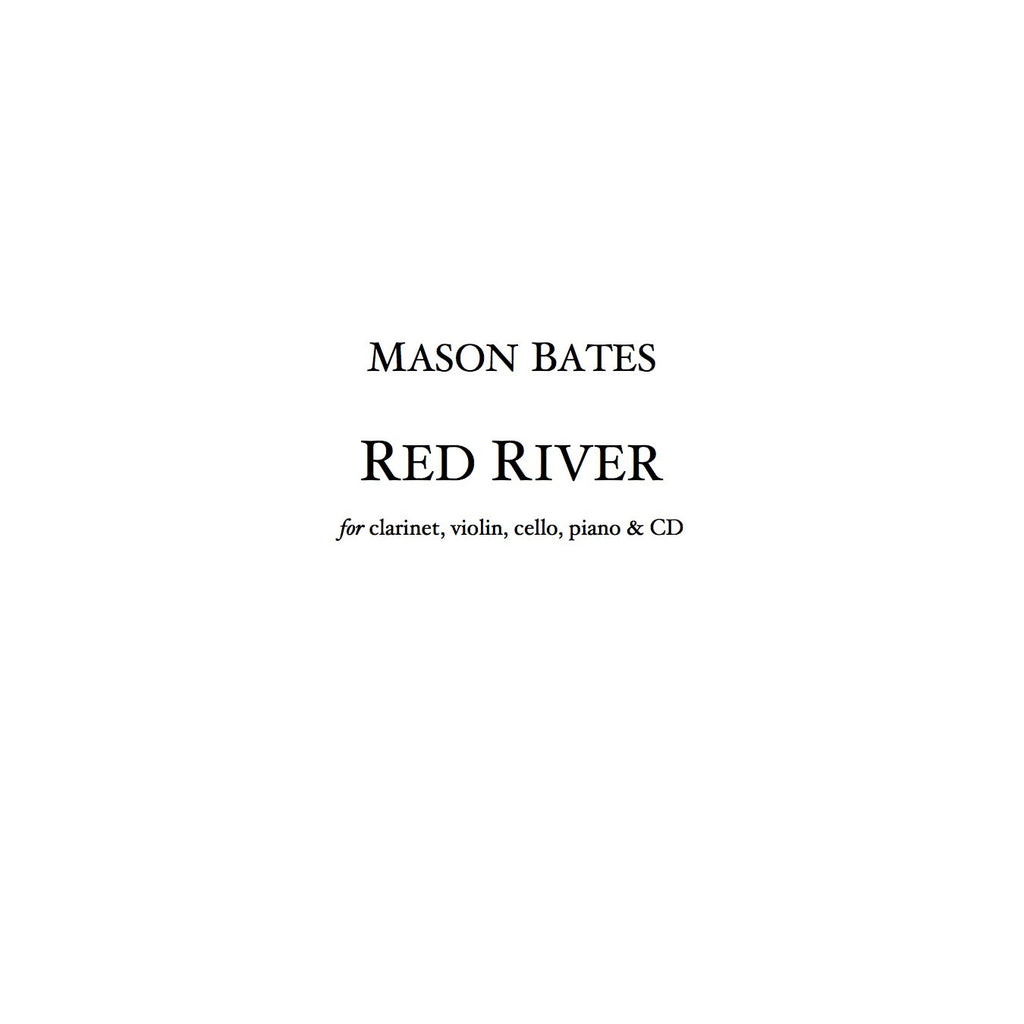 Red River
$ 110.00
for Clarinet, Violin, Cello, Piano, and CD
Buy on iTunes: https://itunes.apple.com/us/album/mason-bates-digital-loom/id323320911
PROGRAM NOTES
Combining a chamber ensemble with the rhythmic power and drama of electronics, Red River traces the journey of the great Colorado River to its various destinations in the Southwest - Las Vegas, the Grand Canyon, the California desert - where its overuse is a source of endless controversy. Perhaps no body of water better illustrates the age-old confrontation of humankind and nature than the great Colorado, whose very name embodies this struggle. Its early designation as Red River was a nod to the rich color arising from its special silt, which ultimately ended up trapped behind various dams erected along its way. The name changed to pay homage to the river's source, high up in the Colorado Rockies at the Continental Divide - and that is where this work begins.
Various streams accumulate as the runoff from the Rockies builds into a formidable body of water. The delicate musical amass as the first movement unfolds, with quicksilver figuration in the piano echoed by the other instruments, and the electronica beats move from ambient trip-hop to energetic drum 'n bass. These various musical streams unite in "Interstate 70," an epic American freeway that parallels the Colorado through the state of Utah, and the electronics disappear as the ensemble falls into a bumpy and capricious ride.
As we arrive at the central, lyrical "Zuni Visions," we find ourselves floating high above the river in the red rocks of Arizona's Grand Canyon. The Zuni Indians once lived in caves up in the walls of the Canyon, and the atmospheric electronics and bending clarinet melody imagine us looking down at the river with them. This ponderous movement ends abruptly with the arrival of enormous machinery, and the ensuing "Hoover Slates Vegas" uses all manner of industrial beats in the electronics to conjure the building of the Hoover Dam - the great sink of Las Vegas - with a nod to the razzle-dazzle of that thirsty city. Exhausted by all this human activity, the river (and the piece) moves to its final resting place, the huge Sonoran Desert in southeastern California. The trickles of the opening have now run dry, and all we are left with is the buzzing of a Sonoran cricket amidst the vast emptiness of the desert. Many thanks to Antares for joining me in this new work, and to Ted Huffman for inviting me to his wonderful festival.
PERFORMANCE NOTES
The piece requires simply two stereo speakers, placed on the left and right sides of the stage, and a CD player for playback. Because the electronic part is sometimes ambient - and because the score is carefully cued when the electronics become more beat-oriented - a click track is not needed. The CD player should be placed next to the pianist, who follows the simple instructions in the electronic part in the score.

REVIEW
Mason Bates's musical language lies at the intersection of three major streams of contemporary music -- jazz and its offshoots, classical music with all its harmonic and textural experimentation, and electronica. His Red River, written in 2007 for clarinet, violin, cello, piano and computer-generated sound track, traces the Colorado River's path from its origins in the Rockies, through the Grand Canyon, ending in the California desert. It exudes a sense of Americana for the 21st century (much as Dvorak's music did in the 19th century, and Copland's in the 20th).
Antares, a clarinet, violin, cello and piano ensemble, played this admirable five-movement score as the centerpiece of its program at the Barns at Wolf Trap on Friday, coordinating with the recorded tracks smoothly and painting vast and sometimes rocky landscapes in vivid colors. The electronics provided the ambiance, a sort of wash of light and air movement punctuated by the sounds of water and insects. In the foreground, the instruments combined and recombined in mostly delicate sonorities. —Washington Post (Joan Reinthale), 3/22/10