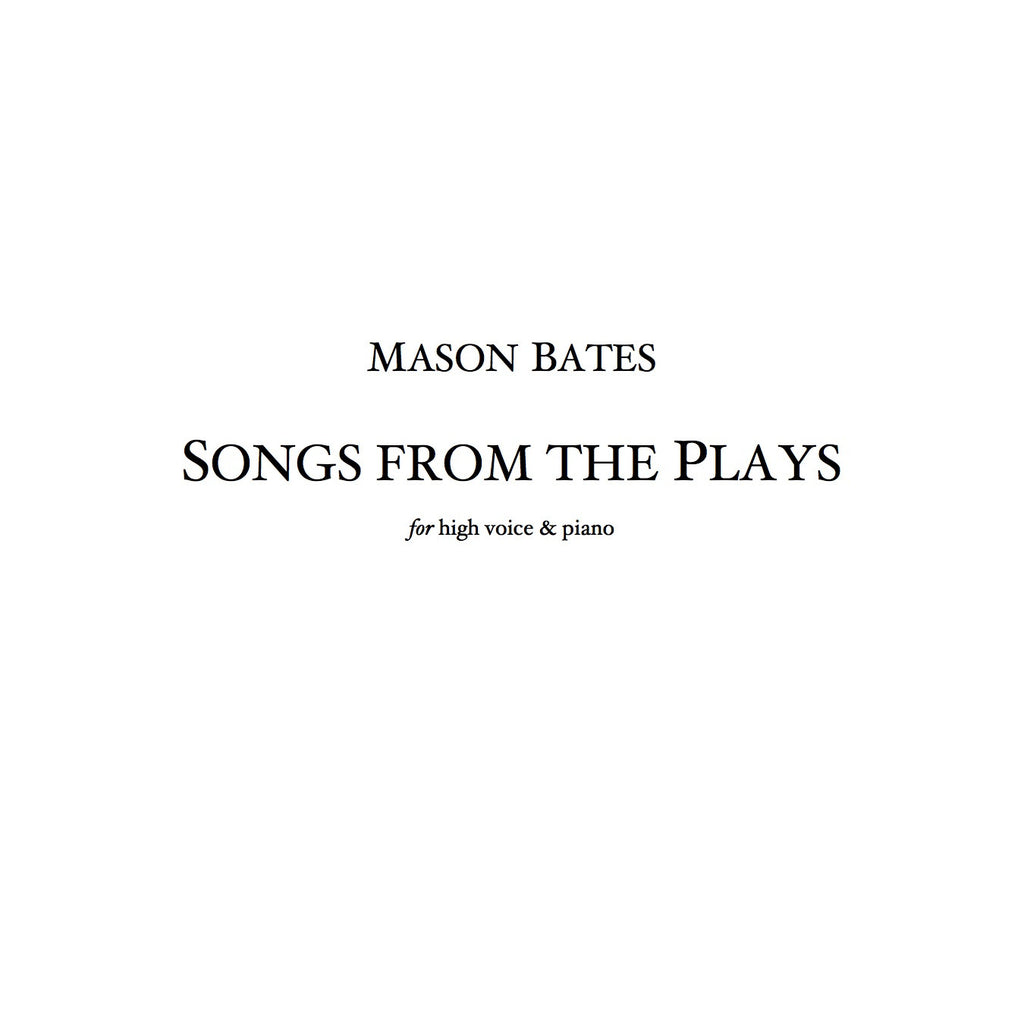 Songs from the Plays
$ 40.00
for High Voice and Piano
Approximate Duration: 30'
PROGRAM NOTES
In Songs From the Plays, New York poet Kenneth Koch creates charming, witty, and moving songs excerpted from imaginary plays. It is as if we have found the most exquisite cornice of a vanished cathedral, and its beautiful craftsmanship soon makes us forget from where it came.

This cycle uses seven of Koch's twenty-seven poems, arranging them around three important aspects of life as presented in the final song: love, friendship, and art. Though this song comes last, fragments of it appear between some of the songs to guide us through their thematic groupings.

"Bring Back the Beds" is a fanfare with a love song, in which the poet reminisces about those wonderful little details cherished by lovers — beds, linen, flowers, hotels. The final line confirms the touch of bittersweet nostalgia hanging over the poem, suggested by the searching chord progressions. In "They Say Prince Hamlet's Found a Southern Island" — a lopsided barcarole with balmy, rolled chords — two Shakespearean characters are given much nicer fates than they get onstage. Hamlet sunbathes with a lover, and King Lear teaches at an august university. But the voice of Reason enters in the last stanza to prod them back into action, and the balmy chords turn into Baroque opera flourishes.

With "This Dancing Man Was Once the Pope," the cycle moves from the theme of love to that of friendship and socializing. This imagined dance between the Pope and the President of Israel features a melange of Christian music in the Pope's song; a klezmer-infused trio in Golda's lament; and a rather ungraceful combination of the two in the reprise of the Pope's song.

"Your Genius Made Me Shiver" turns the cycle to the subject of artistic friendship and rivalry. The poet's obsession with greatness is mirrored in the steadfast repetitions of notes and chords that begin and end the song. In the middle, these repetitions morph briefly into a gentle Lieder accompaniment. Picking up on the theme of art, "What Makes This Statue Noble Seeming" plays on the dramatic possibilities of various recitative. The poet begins with an unemotional evaluation of the artistic qualities of a statue of a naked woman, but is so overwhelmed by desire that the song ends, where the cycle began, with love.

As a coda, "You Want a Social Life, With Friends" — the song we have heard in fragments — is finally presented whole. It meditates on the elusiveness of the three valued aspects of life: love, friendship, and art. A brief piano postlude brings the cycle to a close.