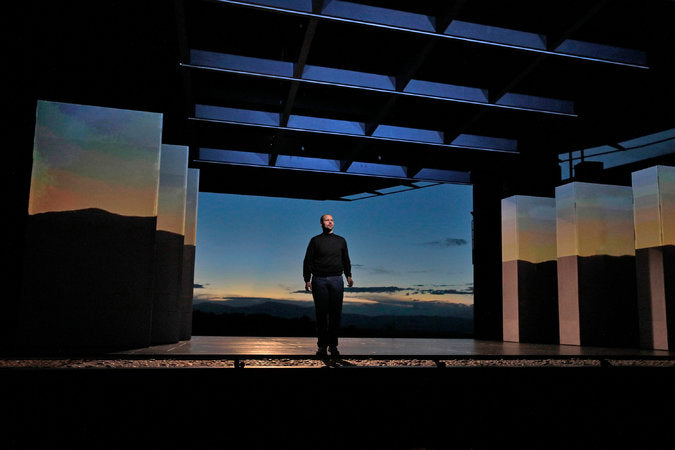 The (R)evolution of Steve Jobs
$ 250.00
An Opera in One Act 
Conductor's Score and Performance Parts for RENTAL ONLY.  Please send an email to info@aphramusic.com to request a rental application form. Add to cart if you would like to purchase a Study Score.
Approximate Duration: 90'
INSTRUMENTATION    
2 flutes (both double piccolo)
2 oboes
2 Bb clarinets
2 alto saxophones
2 bassoons

4 horns in F
3 C trumpets
2 tenor trombone
1 bass trombone

laptop (see performance notes)

percussion (2 players)
harp
piano / celesta
guitar

Strings

Steve - Baritone
Laurene - Mezzo-Soprano
Woz - Tenor
Chrisann - Soprano
Kobun - Bass

Chorus
(from www.santafeopera.com)

Many of us want to change the world. Steve Jobs did. An enigmatic public figure, he could be magnetic yet unapproachable, empathetic yet cruel, meditative yet restless. He helped connect us all while building a firewall around his own emotions. At the heart of this world premiere is the story of a man who circles back to the formative events in his life while learning to acknowledge his own mortality.

The moving and witty libretto by Mark Campbell leaps around in time to capture the spirit of its subject. Composer Mason Bates' music blends expressive electronics, including guitar, with rich opera orchestration.

This new opera's world premiere has been called "a triumph" (The Washington Post) and "a winning opera" (Los Angeles Times). "Santa Fe Opera has a hit on its hands" (Financial Times). It has "breathtaking inventiveness and dramatic power — a true fusion of sound and subject matter" (San Francisco Chronicle), and is "a gripping and illuminating musical, dramatic, and visual achievement — one that transcends the divides of generations and genres" (San Francisco Classical Voice).
Photo credit: Ken Howard for Santa Fe Opera