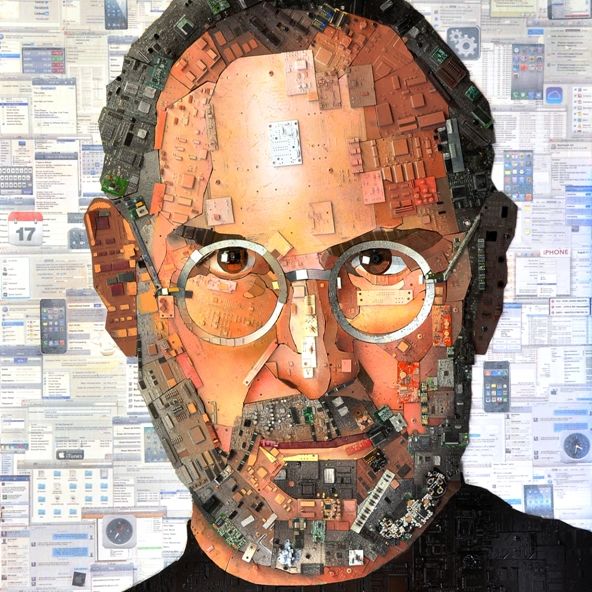 The Rhapsody of Steve Jobs
$ 100.00
For Symphony Orchestra
Conductor's Score and Performance Parts for RENTAL ONLY.  Please send an email to info@aphramusic.com to request a rental application form. Add to cart if you would like to purchase a Study Score.
Approximate Duration: 10'
INSTRUMENTATION    
2 flutes (both double piccolo)
2 oboes
2 Bb clarinets
2 bassoons

4 horns in F
3 C trumpets
2 tenor trombone
1 bass trombone
tuba

percussion (3 players)
harp
piano / celesta

Strings

PROGRAM NOTES
The Rhapsody of Steve Jobs swirls together many key musical elements of my opera The (R)evolution of Steve Jobs, which was premiered by Santa Fe Opera in 2017 and is currently in its second production with Atlanta, Austin, and Kansas City Operas.  This lively symphonic work stays true to the kinetic surface of the opera, which uses an electro-acoustic soundworld to conjure the excitement of theearly Information Age.  Instead using an 'opera suite' form which presents themes separately, I opted for a rhapsodic approach that interweaves them – a kind of free remix that required considerable new material.
The anchoring theme is from the opening number 'One Device,' in which Steve Jobs mesmerizes theaudience with the presentation of the first iPhone.  This short motif is presented obsessively while a bustle of instruments accumulate around it, propelling us into the Overture of the opera.  Between rondo-like reprises of the opening motif, we hear cameos of 'Ma Bell' (a swinging duet between Jobs and Steve Wozniak) and 'Look Up, Look Out' (Lauren Powell Jobs' closing aria, which implores theaudience to connect beyond devices).  The coda brings us back to the opening product launch with a pulsing build of material that, like the cult-like following of Jobs himself, is both exuberant and frenetic.