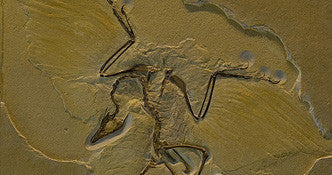 Violin Concerto
$ 125.00
For violin and orchestra - Proceed to purchase if you would like to buy a study score.  
Conductor's Score and Performance Parts for RENTAL ONLY. Please send an email to info@aphramusic.com to request a rental application form.
Approximate Duration: 27'
PROGRAM NOTES
This is a concerto filled with ancient animals. First and foremost is the solo violinist, who inhabits two identities: one primal and rhythmic, the other elegant and lyrical. This hybrid musical creature is, in fact, based on a real one. The Archeopteryx, an animal of the Upper Jurassic famously known as the first dinosaur/bird hybrid, can be heard in the sometimes frenetic, sometimes sweetly singing solo part. The searching melody that underlies the entire work, not heard in full until we are well into the first movement, has in fact been peering at us from behind the orchestral fauna all along.

Unfolding continuously out of the explosive first movement, the middle movement (Lakebed Memories) explores this melody dreamily, conjuring the lakebed in southern Germany where the archaeopteryx fossil was discovered. Eerie, hazy sonorities give way to a kind of underwater epiphany, pushing us airborne into the finale. In this last movement (The Rise of Birds), the soloist stays aloft on a jetstream of notes, inspired equally by Bach inventions and sparkling electronica. The work's final measures transform the soloist fully from dinosaur into bird, with the melody floating high above an orchestra of fluttering textures.
INSTRUMENTATION

2 Flutes – 2nd doubling Piccolo
2 Oboes – 2nd doubling English Horn
2 Clarinets in B-flat – 2nd doubling Bass Clarinet
2 Bassoons – 2nd doubling Contrabassoon
4 Horns
4 Trumpets in C
2 Trombones Bass
Trombone
Tuba
3 Percussionists* Timpani
Piano
Harp
Violin Soloist
Strings
REVIEW
"Most interesting was Mason Bates' Violin Concerto, a world premiere commissioned by the soloist Anne Akiko Meyers and the symphony... The outer movements are high-energy excursions, driven by the composer's gifts for inventive rhythms, lyrical inspiration and a combination of moment-to-moment persuasiveness and feeling of formal satisfaction. Fortunately, the music received an outstanding performance by Anne Akiko Meyers, whose articulation and tone were an unending source of delight. The slower middle movement was full of personality, and not only when the score indicates "coy, "gentle" or "seductive." Slatkin, the principal guest conductor, provided the sure and sympathetic hands guiding the orchestra with the soloist…. This concerto will be played by many orchestras."
— Pittsburgh Tribune